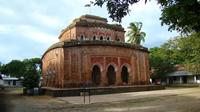 Private Tour: Dinajpur Day Tour of Kantajew Temple and Tajhat Palace more_vert
*$96 AUD Book
close
Book this full-day private tour in Dinajpur to visit some of the most archaeological and historical destinations including Tajhat Palace, Kantajew Temple/Kantaji Temple, Nayabad Mosque, Ramsagar National Park and Ramsagar Lake.
You will be picked up from your hotel in Dinajpur at 8:00 am and transferred to your first stop - Tajhat Palace. Explore this majestic architectural masterpiece that is 76 meters long and two stories high.
Next, head to the Kantajew Temple, also known as Kantaji Temple, an 18th century brick temple of Hindus, situated in the village of Kantanagar. It is a unique example of the temple architecture of terra cotta (terracotta) art in the subcontinent. This temple used to be known for its nine ornamental spires, but they were destroyed by the destructive earthquake of 1897. In the early 20th century Maharaja Girijanath Bahadur restored the temple except for the missing nine spires. Learn the fascinating history from your guide while witnessing this historical architecture.
Enjoy lunch at a local restaurant and afterwards visit Nayabad Mosque constructed at 1793 AD in the reign of Mughal Emperor Shah Alam II. There are about 104 terracotta plaques rectangular in shape, used in the surface decoration of the mosque walls. The platform of the mosque is enclosed by a low brick wall with only one access from the east and some tombs were found on either side of the mosque. Continue to visit Ramsagar National Park and Ramsagar Lake.

The Ramsagar Lake area with abundant flora and fauna is a popular picnic spot especially for the locals. The water reservoir was built between 1750 and 1755 to provide local inhabitants with safe drinking water and its construction was initiated by Raja Ram Nath and some 1.5 million laborers worked on the project. During the migration season, the lake is a stop-over for innumerable migratory water-fowl which makes for a spectacular sight.
At approximately 6:00 pm, you will be transferred back to your hotel in Dinajpur.
$95.63

gradegradegradegradegradegrade
query_builder 10 hours
flight_takeoff Dinajpur
flight_land Rangpur Division

---

Book

---

Check Dates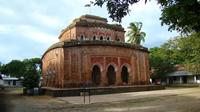 ---
(*) All prices are approximations due to currency fluctuations.